10 Solar catamaran designs promising green on blue waters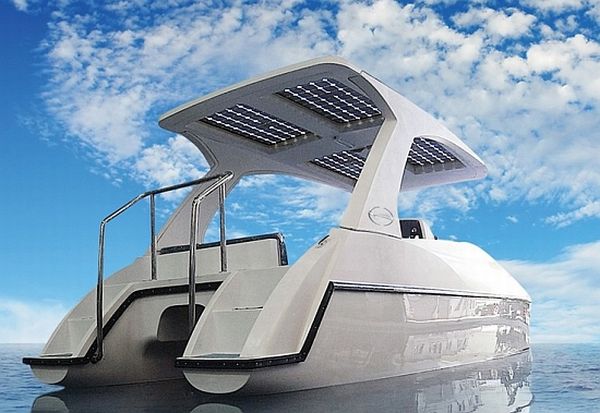 Save the environment is the in thing these days and many companies and innovative individuals are working to do their bit to save environment. This wave of eco consciousness has prompted many companies and designers to come up with ideas of catamaran that are totally green and powered by solar energy.
Here is the list of 10 solar catamaran designs promising green on blue waters:
1. Solar Catamaran float 1
The credit for developing solar-powered Catamaran named Float goes to a California resident Jeffrey Greger. This ecofriendly Float can be put on the top of a car and taken to a lake or a calm beach to feel the water waves. The Float is spacious enough to accommodate four people. It has LED tail lights and in-built speakers. The top of the Float has solar panel that traps solar energy. The catamaran is powered by Lithium-Ion battery.
2. Enso 1 Catamaran
The Enso Wing sailed Catamaran is the brain child of Zack Stephanchick, an industrial designer by profession. This 140 inch boat is ecofriendly and it can be used to move in style on the open waters. According to Zack, Zen Buddhism has inspired him to design Enso. The propulsion system of this catamaran is ecofriendly. Enso is pretty spacious from inside.
3. Catamaran powered by solar energy
International Biological station has designed and built this solar-powered catamaran named the Helios Cousteau. It is currently running in the northeast province of Zamora, Spain. The green boat is totally sustainable and is attracting a lot of tourists. This ecofriendly boat with 80 seats has now become a part of European network of Aquatic Biodiversities Observatories. It is 19 meters long and 6 meters wide. The catamaran features 20 solar panels and four wind turbines.
4. Electro Solar
As the name suggest, this catamaran is powered by solar energy. It is expected that this solar-powered catamaran will participate in the Solar Challenge. This ecofriendly catamaran is made up of the hulls of a Formula 18 catamaran. The designers have fitted high-efficiency photovoltaic modules in this catamaran. The modules trap sunlight and generate about 2 KW of power. The Electro Solar can touch a top speed of around 8 knots.
5. GO2 catamaran
Designer Chris Rose has come up with the idea of the GO2 catamaran, which will run on Thames River. This catamaran is totally green because it is completely powered by electricity. The piezoelectric dance floor on the catamaran can use the kinetic energy of the dancers to charge the onboard batteries. The power generated by these batteries can be used to rotate electric motor fitted on the two hulls. The hulls are made up of marine ply.
6. Biocat catamaran
Biocat catamaran derives power from either a V10 engine or two V8 engines. The best part is that both these engines can be run with either diesel or biodiesel. This catamaran is 8.8 meter long. It can reach a high speed of 110 mph.
7. Solar proa
Designers Carolin Dissmann, Tibor Bartholomä, Daniel Boos and Andreas Schwab have come up with a fully sustainable solar-powered catamaran named Solar Proa. This sleek and stylish catamaran can accommodate six people. Around 14.5-square-meters of the catamaran is covered with photovoltaic panels. The onboard batteries of Proa can be recharged by using a 230 V electric socket. The Proa can hit a top speed of 6.59 knots. It is completely green.
8. Folding solar catamaran
The FOSCAT-32 is different from other catamaran because of its unique design. The catamaran has won the prize at A' Vehicle and Transportation Design Award. This catamaran will derive energy from sun and wind. It features DC motors for taking "u-turn" comfortably.
9. Sun cat
Taiwanese firm Horizon Yachts has designed and built Sun cat in cooperation with Solar Water World AG. This solar-powered catamaran can generate 760 watts of power. It has four solar panels. Sun cat can carry 12 passengers. J.C. Espinosa has designed the exterior of this catamaran.
10. Eco slim
This ecofriendly catamaran is developed by boat-builder Drassanes Dalmau. The boat can carry 150 people. It can touch a high speed of around seven knots.