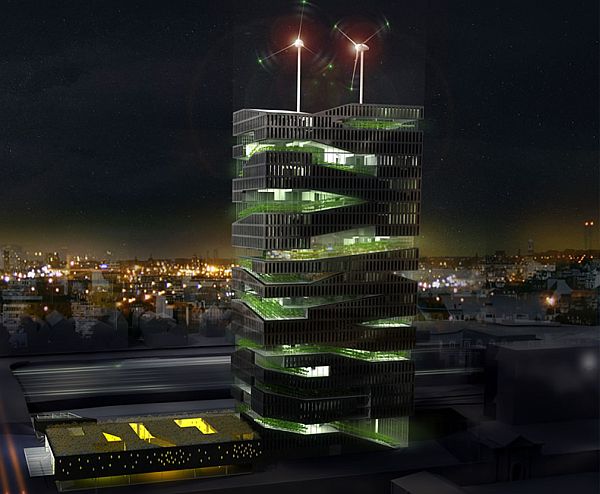 Wheat on the seventh floor and rice on the twelfth. Finally, enough food grown over 18-story tower that can feed a city of 50,000 citizens. This simple thought would one-day become a reality. Thanks to the vertical farms or sky farms, where various crops will be grown in ecofriendly skyscrapers. Till date this concept was tagged as futuristic designs and was seen merely on optimistic Web sites.
In spite of concerns over high costs of sky farms, health experts across the world are trying to convince people across the world, the reality behind this innovative concept. So let us now take a quick look at top ten green skyscrapers in the world, which boosts vertical farms that not only produce food but also provide an artistic look to the building.
1. Musee du quai Branly, Paris
This French museum is located close to the popular tourist attraction – Eiffel Tower in Paris and houses one of the best vertical garden works by a renowned artist Patrick Blanc. The sky farm here is around 200 m long and 12 m tall. The living wall was at once healthy and lively, however today inadequate irrigation support and drainage problems are quite evident. But still the building remains beautiful.
2. Sky Farm, Las Vegas
With the estimated cost of $200 million, this proposed sky farm is located in Las Vegas city. On completion this tower would be the first 30 storey vertical farm in the world. The building will sport 30 floors of indoor farmland. It is said that a vertical farm as huge as this one will produce enough food for feeding 72,000 people every year. It would grow about 100 different crops and bring in around $40 million annually through produce sales as well as tourism.
3. Residence Antilia, Mumbai
On completion this building will hold a world record for being the tallest as well as largest living wall in the world. The 200 m tall building – Residence Antilia – features vertical gardens throughout its exterior walls. With an estimated cost of $1 billion, this revolutionary design would be the greenest skyscraper in the world.
4. BHV Homme, Paris
BHV Homme, a vertical garden is located at one of the popular Parisian department stores in Paris. While seen from a distance, this living wall resembles an abstract painting and looks quite artistic.
5. SkyFarm, Toronto
This new vertical farm – Sky farm – is planned in the downtown Toronto and on completion would feed 35 000 people every year. The proposed building would be constructed using 1.32 hectares of land that would boost of 58 storey. The building will have 8 million sq ft area for growing crops.
6. Pershing Hall Hotel, Paris
The attractive vertical farm is located in the courtyard of the Pershing Hall Hotel in Paris. It is a 30 m high vertical garden and features more than 250 different species of plants.
7. Club Med Champs, Elysees, Paris
Club Med Champs is a small vertical garden nestled in Club Med in Paris and represents plants from almost all continents in world. The reason for installing a vertical garden was to create an upscale feel for the first rate resort. The sky farm is visible even from outside and is marvelously lit at night.
8. Caixa Forum, Madrid
Caixa Forum is one of the newest museums in Madrid, Spain. The exterior walls of the building feature a 24 m tall vertical garden with more than 15,000 plants and 250 different species. The artistic show is one of the finest examples of sky farm in Spain.
9. Vertical Gardens, Bangkok
The concept of vertical gardening is spreading like wildfire and Bangkok, Thailand are not an exception. The sky farms at the Siam Paragon shopping mall, Bangkok are designed for decorative purposes and for enhancing air quality. Another popular vertical garden in Bangkok was the Emporium, here the glass walls of the elevators were covered with vertical farms.
10. Foundation Cartier, Paris
Paris is a sort of hotspot for vertical gardens in the world. The city is becoming popular for 'decorating' a bland wall with various beautiful plants, whether for artistic purposes or functional intentions. Paris can be truly called as a mecca for vertical gardening; one of the main reasons being Patrick Blanc – the father of vertical garden lives there.