10 eco friendly fireplaces for green homes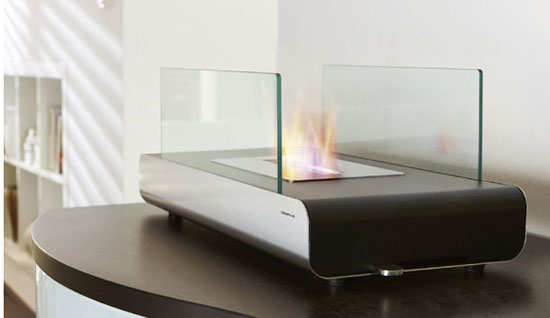 Take your green home a notch higher by warming up with eco friendly fireplaces. While having a fireplace is a great addition to any home,and sets up a cozy corner for those cold nights, the following ones make use of all the futuristic applications and serve up some fireplaces as compact as iPods or ones which are pure architectural delights.
1. EcoSmart Zeta Fireplace – Be green, be warm
Geo-Form has designed a fireplace fueled by ethanol, replete with a stainless steel swivel base. Its main body is carved up from a high frequency heated aluminum mold and wrapped up in leather. The Zeta also offers you a range of leather covers to warm up in style.
2. Eco friendly Fireplace for chilly winters
Ecosmart too uses denatured ethanol as fuel to fire up a warm fireplace in your house. This fireplace holds up a central space and accentuates your slinky home, while keeping your warmth and expense at check by letting you regulate the flame's intensity.
3. Wall-mountable fireplaces from Arkaine
The Icoi and Yan-Li are two new wall-mountable offerings from Arkaine. The steel bodied fireplaces can be easily hung onto your wall, and are also equipped with glass doors which can be opened and closed depending on the heat you need. Using dried wood as its fuel makes it a clean, efficient alternative to keep warm.
4.Eco friendly bioethanol fireplaces from Prestigious Fireplaces
This portable fireplace which also use bio ethanol can be set up easily on your own, wherever the chill might need some killing.
5. Spark Fire Ribbon Fireplace
The direct-vent claims to be highly effective yet maintaining its sophisticated architectural aesthetics. The fireplace is covered by a fixed ceramic glass window and is perfect for spacious zones. The direct-vent draws air from the outside which cuts out heat loss and also gives customers an option of customizing their own fireplace.
6. Igloo: Flue Less Burner Fireplace by EcoSmart
Another offering from EcoSmart, the Igloo is rectangular fireplace with hard glass frame on its sides. Completely freestanding, the Igloo is a great addition to public spheres and grabs the eye instantly.
7. Ethanol-fueled 'Fusion' fireplace
A great addition to any green house, Marc Philipp Veenendaal's Fusion fireplace is modern and conscious. For safety from the nearly invisible ethanol flame, the fireplace has a toughened glass panel and wind screen positioned ahead of the firebox.
8.Eco friendly, ethanol-fueled fireplaces
Digifire fireplaces decided to leave the chimney out, but not without taking care of the harmful fumes which are released when fuel is burned in our fireplaces. Fanola, a highly effective ethanol burns effectively to release minimal steam and Carbon dioxide; an amount equivalent to how much a human being releases.
9.Fire Furniture fireplace by Schultedesign
A coffee table cum fireplace? That's exactly what German furniture company Schulte have carved up. The Firefurniture is a fireplace assorted into a stainless steel and wood design. The coffee table which also keeps you warm is also fueled by an emission liquid.
10.Smokeless Fireplace from Blomus
The Vidro, a fireplace designed by German designers Blomus, is also fueled by smokeless ethanol. So you can leave out that chimney but now without shelling out a cool $ 1174. This model also comes in a smaller size suited to homes with less space.