10 design to create ionic sustainable structures
Today with increasing need for judicious use of our natural resources via sustainable ideas, 10 design has created an untouched relationship between rural landscape and the growing demands of a rapidly growing city. The Galaxy Yabao Hi Tech Enterprises Headquarter Park is located in the fast growing city of Shenzhen, in Guangdong Province of China, which includes the total site area of about sixty five ha. It consists of eighteen high rise buildings which are approximately three hundred meters tall. It also consists of a five star hotel and luxury apartments with three residential towers. Adding to its organized attribute, it also has a shopping complex for all the shopaholics.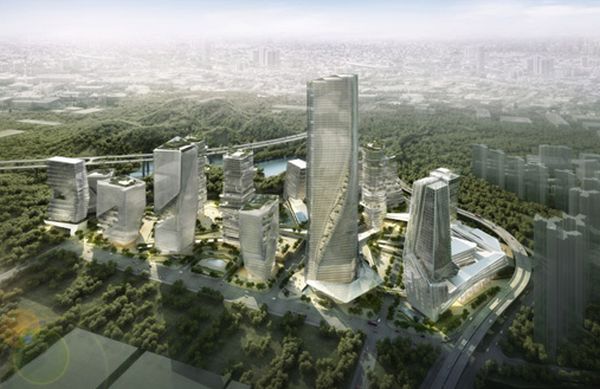 In order to use technology for creation of greener elements, the architects of 10 design innovated to allow vegetation to cultivate up the sides of the edifices. Algae ducts are placed over the western fronts with the vegetation bands ascending up the towers. This are then altered into rooftop gardens which helps in reduction of the heat-island effect.
The constructions designed at this Headquarter Park will eventually counterbalance air pollution continuously throughout the day. The algae arrangement will generate oxygen and organic fertilizer and helps cleanse grey water. This ionic element will utilize shopping mall terraces to convert them into green garden spaces. A chain of subterranean compartments will logically cool the outside air. This will be pushed into a series of outdoor enclosures. The construction of this project was initiated last year to help control the temperature and air quality of this region.
Via: Evolo