The buzzword — 'eco-friendly' — has entered the kitchen long back, but it's selling well only recently. Here are 10 green accessories and gadgets that will surely turn your kitchen 'green'.

1. Wheat-Based Cutlery: It's Biodegradable!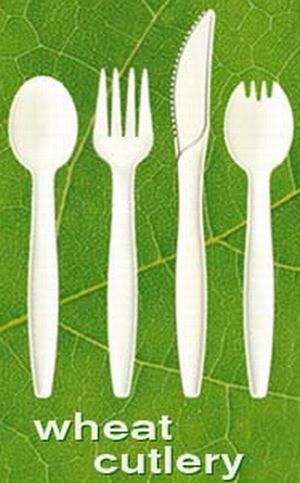 Though, plastic and wood are the most common materials used in kitchen, with an increasing environmental concern, manufacturers are gradually shifting to alternative materials. Earthware Biodegradable has developed non-GMO wheat-based cutlery.
True, it breaks down completely in 3-6 weeks! But, never mind how many days we use it, it is safe especially for people who have gluten allergies. These amazing, eco friendly cutlery is heat-resistant and dishwasher safe.

2. Recycled Coffee Table made from Race Car Tyre!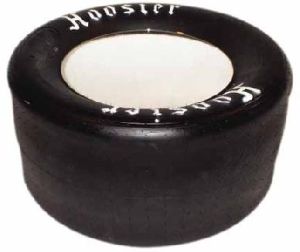 Straight from the race course to your kitchen, this coffee table contributes towards the environment by being made from recycled race car tyres, which otherwise were just to head for the already burdening landfill. Not just that, it is produced in a 100% waste free process, and can rightfully be claimed as a 'contributor to environment'.
3. Energy-n-Water Saving Pasta Cooker!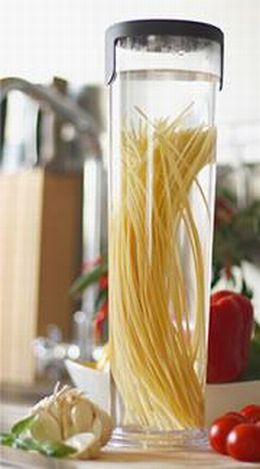 This pasta cooker is not only interesting, but also environment-friendly. Compared to cooking pasta in a traditional pot, this cooker saves up to 70% of energy! Not just that, it also saves up to 50% of water. Cool!
4. Clock Made from Pie Tin, Fork, Spoon!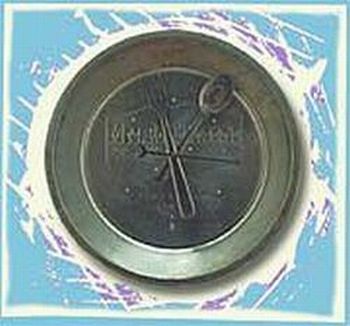 With your days running with clock, it is necessary to have a clock on your kitchen wall. Here is one, meant just for the room. It seems as if your whole kitchen has assembled into this amazing clock.
A spoon as the hour hand and a fork as the minute hand add to the whole concept. It seems to be the right design for your 'green' kitchen, using recycled materials.
5. Recycled Carpet Waste-made waterproof serving trays and containers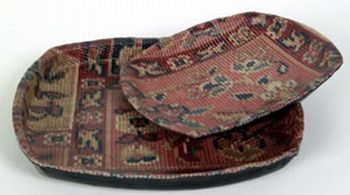 Heat Treated Carpet is made from 100% recycled material that comes from faulty or end-of-line carpet waste from its manufacturers. The HTC is then molded into any 3d form ' to give birth to products for kitchens, bathrooms, restaurants, flat-packed furniture etc.
It is not only waterproof, durable and hard wearing, but also highly resistant to staining. This material is also low maintenance, and non-porous one.
6. Dish Scrubbers, Brushes that are Biodegradable!

Coming from Japan, these scrubbers are biodegradable, made from thin ribbons of fine-grit sandpaper — called 'Sandclean Scrubbers'. They are claimed to outperform regular sponges and steel wool. Quite durable, they work well on hard tea or coffee stains in teapots and cups.

7. Snack Bowl made from Recycled Classic Vinyl LP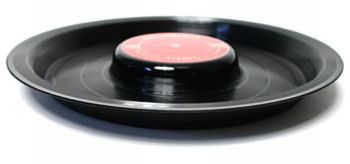 A very innovative creation from CDs ' a snack bowl! Made from classic vinyl LPs, this snack bowl is unique both in look and making and is 100% cool and all one of a kind. It will surly add pride to your eco-friendly kitchenware.
8. Solar Powered Milk Frother!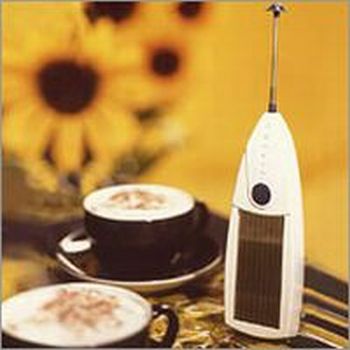 Now, forget your electricity bills and batteries needed to create that yummy froth over that glass of milk, using a frother. Named SoLait 100 — this new milk frother is run by the sun. It is good and effective not just for those of the dairy variety but also for any type of liquid.
9. Corn Powered Grills using Clean, Efficient, Renewable Energy!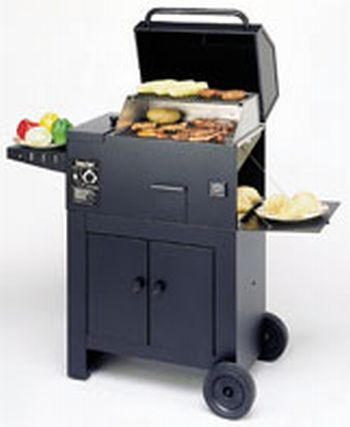 Are you an environment-responsible person, but love those barbecue delicacies? Here is the right alternative to the fossil-fuel powered barbecue grills ' it's a grill powered by dried corn kernels! Just bid those charcoal, propane, gas wood or electricity goodbye and party your weekends cooking your favorite barbecue delicacies, without polluting the environment.

10. Easily biodegradable Corn-based Coffee Cups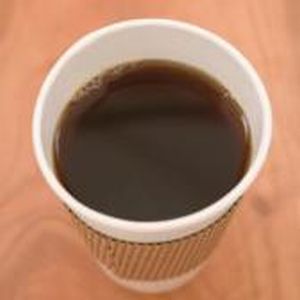 Now coffee lovers can be an environmentalist just by a sip on your coffee mug! Just have a sip of your favorite rich hot; brewing coffee in these corn-based coffee cups, you will get in cafes and office kitchens across the US.
Made of corn, the coatings of the cups are — unlike the other oil-based compound — easily biodegradable once discarded.