Amazingly green cities of the future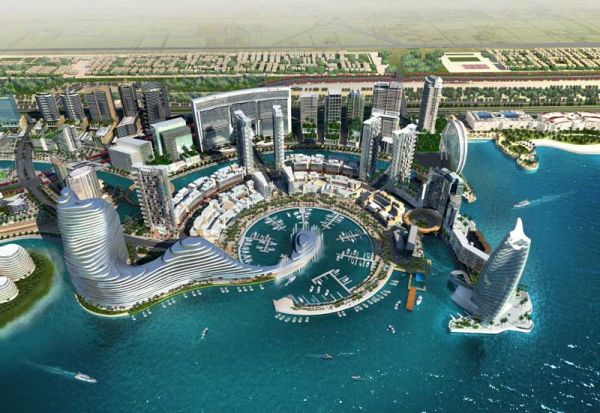 The core concept of green 'garden' cities is not at all a recent development of our contemporary age. It was thought of long back by one eminent town planner Ebenezer Howard in 1898. But with the current instigation of global warming, scarcity of non-renewable resources and mercurial levels of pollution, such conscientious concepts have become all the more important in the present day context. Moreover, humanity now has the wondrous chance to be fostered by the latest spurt of 'go green' technologies, to progress to a truly sustainable age. So, let us take a whiff of fresh air and explore the 10 astounding yet fastidious green cities of the future.
Lavasa the Green city in India: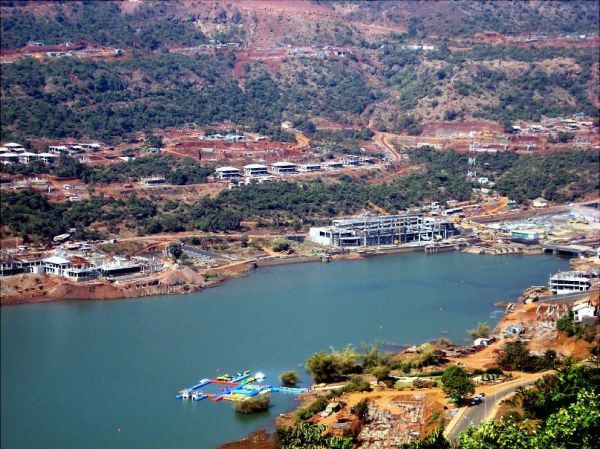 Aptly located in a paradisaical hill locked green valley, between Mumbai and Pune, in Western India, this beautiful settlement can truly emerge to be a nigh perfect example of a naturalistic green city. Rising to around 3000 ft above sea level, the convenient site incorporates a plethora of features like a stream, seasonal waterfalls and rolling hills. And amidst them this self contained city will be flourishing based upon its sustainable economy. There are five access routes to Lavasa, the chief among them being the Chandni Chowk- Pune road. This road makes the main site about 65 km from Pune and around 200 km from Mumbai.
Masdar Green City Project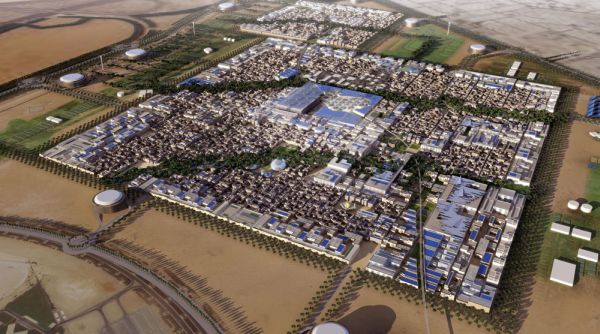 Truly this blatantly ambitious planned 'walled' city project in Abu Dhabi epitomizes mega in every sense of the word – the expansive area of 6 sq km, the meticulous zero carbon features of sustainability and at last but not the least – the humongous budget of around $20 billion! The grandiose settlement will feature a 60 MW solar plant, wind farms with 20 MW capacity, additionally utilizing geothermal energy and water recycling systems. Well if that was not enough, the city also aims to incorporate the world's largest hydrogen power plant.
Hanoi Green City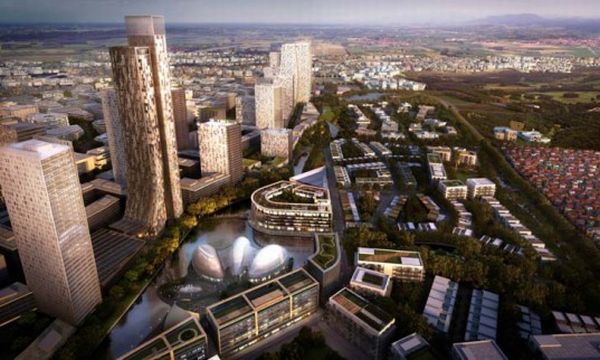 The winning entry for the Green Tech City project competition, this utterly unique conception is a 145 hectares master-plan for a highly sustainable urban district in Hanoi, conceived by Skidmore, Owings and Merrill (SOM) Architects. With a capacity for around 20,000 people, the design aims to incorporate features of local culture with an advanced urban fabric. The result would be a low-rise, pedestrian friendly residential development built around an appropriate zoning of schools, healthcare clinics, sports and leisure facilities.
Chinese green city of Tianjin: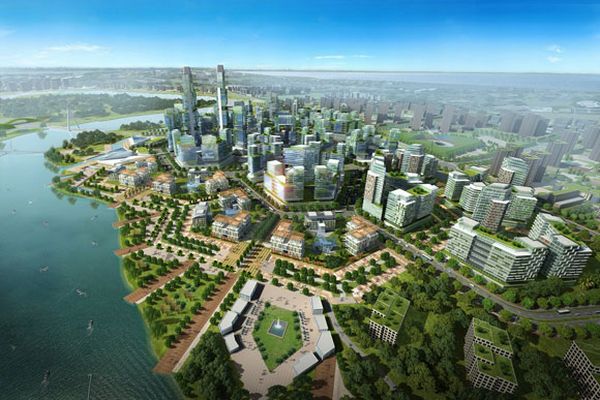 Tianjin being the largest industrial base and commercial center in north China, the development of an urban fabric in proximity to it was always on the cards. But where this 30 sq km proposal significantly differs is its adoption of renewable sources of energy in the form of solar and wind power. Moreover, it is touted to be planned for a capacity of 350,000 people!
A Green City to rise in Singapore's skyline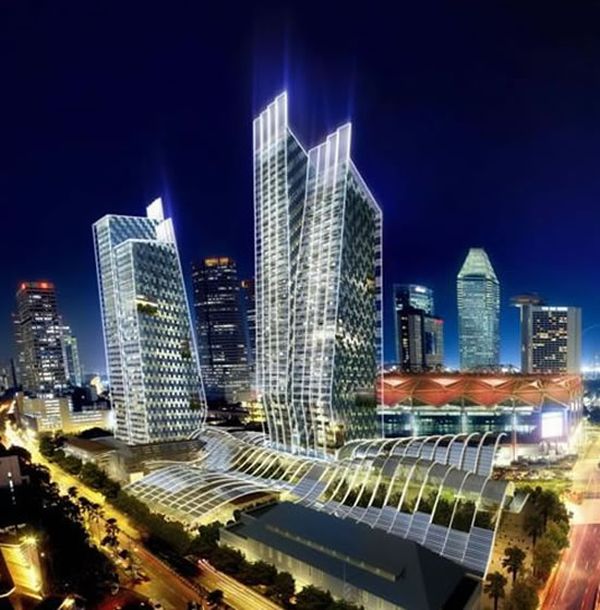 An entire city block in downtown Singapore is all set to don its green attire, if this wondrous conception as well as the wining design by architectural firm Foster + Partners comes to be realized. Whole array of photovoltaic cells will be incorporated on the building's facades. Moreover ribbon-like canopies (also covered with thin-film solar cells) will start at the base of the complex, and rise to form vertical louvers acting as ingenious shading systems.
Green city in Nanjing China by CK Designworks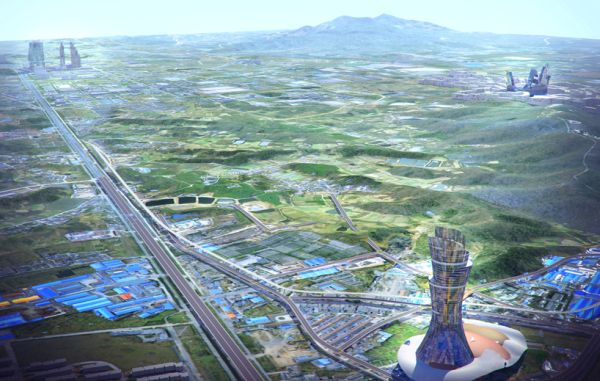 China is already beginning to make its mark as one of the front runners for green investment. And in yet another ambitious proposal, the Australian firm CK designworks have put forth their grand plan of conceiving a 20 kilometer square green city in the Pukou district of Nanjing. This exclusive city will house a population of 200,000 people along with well defined industrial and commercial zones. The design will include traditional Chinese cultural elements, such as mythology and history along with ten important structures, including a 5 star hotel, which are all likely to achieve the highest Leadership in Energy & Environmental Design (LEED) certifications. Thus, an unique confluence of high culture and green technology will be witnessed.
Future City – A low carbon city in Hainan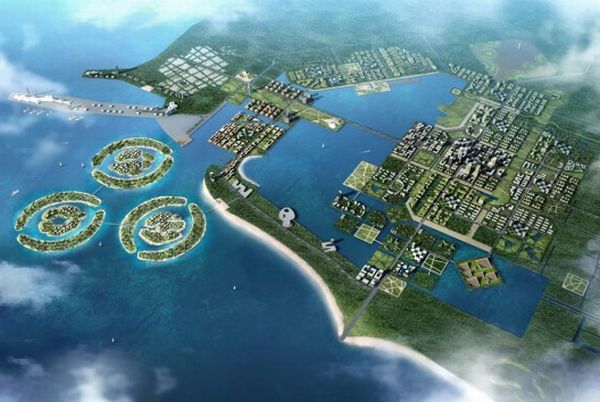 In yet another proposition to take place in China, a grandiose scheme in the tourist island of Hainan was unveiled by eminent urban planners SBA Design. Dubbed as the Future City, the settlement would righteously provide the future benchmark for energy efficient development in numerous ways. Effectual urban planning criteria like interaction between rural and urban spatial patterns and zoning and land use pattern will be dealt with, along with harnessing of solar and wind energy, rain water harvesting, recovering of water resources and energy generation from biological waste.
Ghantoot Green City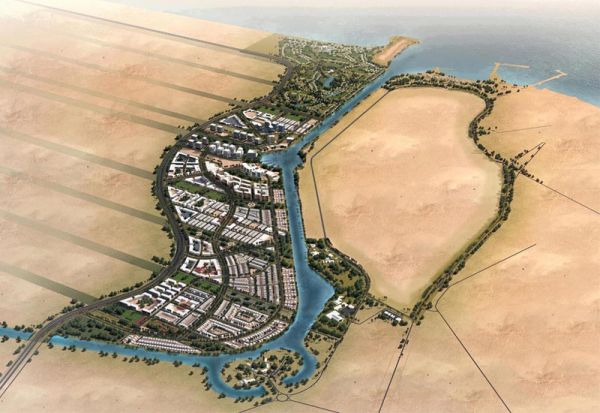 Emerging like those oasis cities of antiquity, this is the 60 sq km Ghantoot Green city project, being developed by International Capital Trading (ICT) in Abu Dhabi. Estimated to cost around $10 billion, the mixed usage urban area will have an efficient system of land use pattern and zoning in the form of commercial center, hotels, office blocks, residential developments, warehousing and light industrial areas. The project is also aimed at providing a number of green jobs in the region.
Capital green city for Abu Dhabi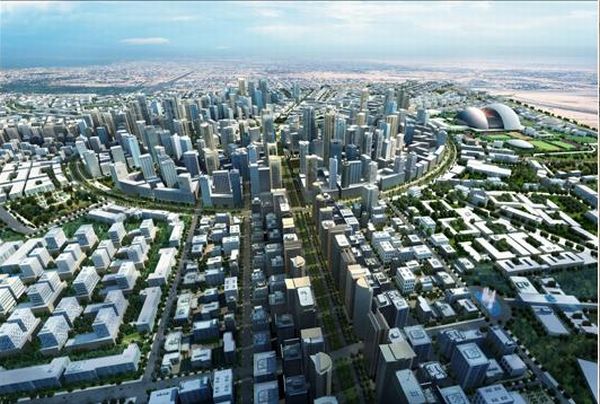 Fervently ambitious with its entire propensity, this whopping $40 billion project is all set to topple even the Masdar City with its unparalleled grandeur. Easily the biggest single project in Abu Dhabi, the development will cover 49 million square meters of mixed usage space along with energy efficient features. Planned for about 370,000 people, the imposition conception will incorporate zonal divisions in the form major universities, hospitals and knowledge-based employment sectors, federal buildings, embassies and international institutions. Work is expected to start in 2012 and be complete by 2028.
Al Raha green city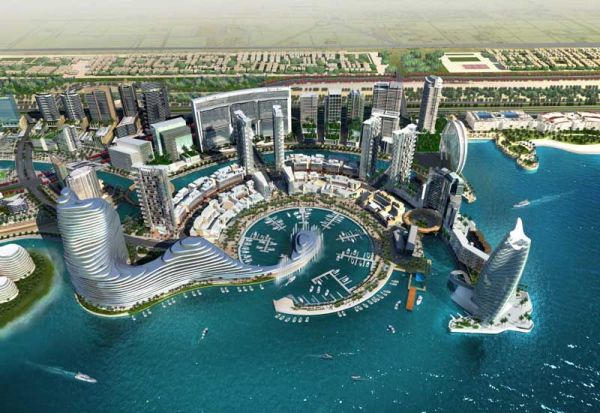 And once again in Abu Dhabi, this is the massive 5 sq km project which will integrate 11 different precincts with a plethora of hotels, marinas, parks, restaurants as well as other recreational facilities. Adjacent to it will be another mixed use Al Raha Beach complex. Estimated to cost around an astronomical figure of $18.5 billion, the whole green proposal is aimed at a capacity for 120,000 people.